November 18 2013
2
18
/

11
/

November
/

2013
09:50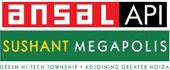 ANSAL MEGAPOLIS INDEPENDENT FLOOR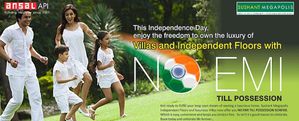 Come to different city "Ansal Megapolis" the most ambitious project of Ansal API Group till date. It's the largest and Green Hi-Tech Township which is all set to change the definition of integrated Township presenting itself the ultimate destination for those who appreciate beauty and art in every sphere of life. A house is made of walls and beams but home is built with love and dreams like "ANSAL MEGAPOLIS INDEPENDENT FLOOR" is a part of Ansal Megapolis located at the landscape of Sushant Megapolis in Greater Noida offers you a township, where every feature fascinates you and each amenity is designed exquisitely. Ansal Megapolis Independent Floors is approved by U.P Govt. Gazetted and notified as Green Hi-Tech Township spreads across 2500 acres of landscaped surroundings.

Having three types of Independent Floors:

Asnal Freesia Terraces: Space you can use your way! Freesia Terraces has G+1, 3BHK Floors ranging from 1263 sq ft to 2096 sq ft respectively with front and rear lawns from ground floor expandable option with Roof rights for first floor.

Ansal Orchid Terrace: Space you can use your way! Orchid Terrace gives you the opportunity to expand and customize your home in your own special way! Orchid Terrace offers floors of 1544.21 Sq.ft to 2778.48 Sq.ft with front and Rear Lawns for Ground floor. So if you need that store room for extra stuff or another room for your kids you make the choice, its flexibility like you've never experienced before!

Ansal Zinnia Terraces: When you need more space! Zinnia Terrace gives your family enough space and ample flexibility to live and enjoy life the way to want to spend your life. Zinnia Terrace offers floors of 1563 Sq.ft to 2646 Sq.ft. With Zinnia you get to make your homes as special as you are!

Ansal Daffodil Terraces: Lots of space – lots of style! Daffodil Terrace gives you Style, Space or Comfort. Daffodil is designed to dazzle with beautiful lawns both in front and rear for the ground floors and exquisitely designed interiors and intelligently managed space usage – you get it all with Daffodil. Daffodil Terrace offers floor format of 1983 Sq.ft to 2009 Sq.ft.

Unit Name Size (Sq.ft) Price Booking Amount

Fressia Terraces (GF) 1263.50 35,51,182 1,85,000

Zeenia Terraces (GF) 1563.00 43,76,154 2,26,000

Orchid Terraces(GF) 1544.21 44,59,965 2,30,000

Daffodil Terraces (GF) 1982.57 56,15,147 2,90,000

Amenities: Ansal Megapolis Independent Floors :

Regular Water Supply
Dependable Power Supply
Earthquake Resistant Structure
24 Hours Manned Security
Fire Fighting Systems
Gated Complex
Community Hall for social gatherings
Children's Play Area
Badminton Court
Tennis Court, Central Lawns
Green Landscaped Area

Booking & Payments: Ansal Megapolis Independent Floors Noida

Customer Care: -

09999684955 (India)
info@affinityconsultant.com
http://www.affinityconsultant.com
http://www.megapoliscitynewprojects.com/
http://www.megapoliscitynewprojects.com/ansal-megapolis-independent-floors-greater-noida/